Welcome to the Eternal Remien Wiki!

The Eternal Remien Wiki is an encyclopedia of a fantasy game called Eternal Remien. This is where anyone can add in ideas of how to improve it. This wiki format allows anyone to create or edit any articles, so we can work together to make a comprehensive game together.

About this wiki | New files | Tutorial | Help

The wiki format allows anyone to create or edit any article, so we can all work together to create a comprehensive database for the

Eternal Remien

series.

Please refer to

Copyright Policy

as well as the

Media Upload Policy

for Eternal Remien Wiki. If there are any questions, please direct them into the discussion page.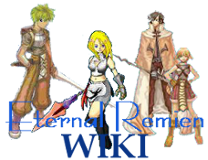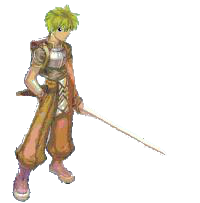 Talos Ashton
(タロス・アシュトン) is the main protagonist in Eternal Remien. He was born and raised most of his life in the city of Eduna where he lives with his father, Hunter Ashton while his two friends, Lyle Evans and Erica Beth by his side.
Talos is a very outspoken person, almost arrogant to others. His swordmanship outranks even the top Royal Guards themselves. His father, Hunter Ashton has always behave harshly towards him without giving his any repraisers. Ever since the death of his mother, Melissa he has been a cold harsh indivdiual especially towards Talos. His mother died giving birth to him, carrying the blue eyes of hers that drives...(more)
Recently featured: -
A slideshow your fanart relating to Eternal Remien! Add it here!
Please follow the policy!
Of the artwork available, which do you like the most?
...closed for construction...
6th July—ER Myspace Obsolete
The Eternal Remien Myspace is no longer being used. For the most current information, view this wiki. Will transfer information from there over here if need be.
29th June—Eternal Remien Wiki is born
It's actually been alive since 25 June, but now it contain a nice layout and background. I'm currently working on developing some articles for people to look at.
8th September—More Updates
Added some new updates and features